ABOUT PARK
The lush green park follows the contours of the Azabu terrain. In the Edo Period (1603-1868), this park was the site of an urban villa that was used by Minonokami Nambu.With its hills, valleys,and ponds, this is an elegant Japanese garden with respect for natural beauty.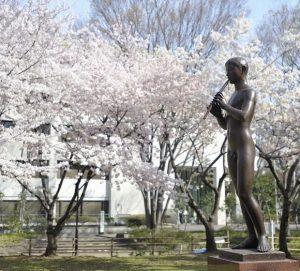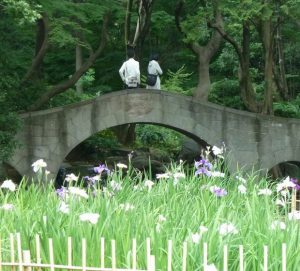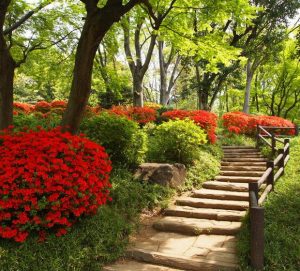 FACILITIES
Restroom

Restroom for men

Restroom for women

Diaper Changing Tables

Ostomate Facilities

Bench

Drinking Fountain

Playground equipment

Fountain

Flower bed

Telephone

Smoking Area
Park area

67,131.11㎡

Playground

play complex、swing、spring rider、swing rider、slide、jungle gym、sandpool with a wooden hut

Disaster-prevention equipment

none
The Park's History

In the Edo Period (1603-1868), what is now Arisugawa-no-miya Memorial Park was the site of an urban villa that was used by Minonokami Nambu, a feudal lord from the Morioka domain that then covered parts of modern-day Iwate and Aomori prefectures.
in1896, the site was developed as a new residence for Prince Tanehito (1887-1908), son of Imperial Prince Arisugawa-no-miya Takehito (1862-1913), whose death marked the demise of the Arisugawa-no-miya branch of the Imperial Household.Emperor Taisho(1879-1926) bestowed Arisugawa-no-miya Takehito's former title, Takamatsu-no-miya, on his third son, Imperial Prince Terunomiya Nobuhito(1905-1987). Deeply interested in recreational area intended for children's health and education. His Highness Takamatsu-no-miya subsequently donated the site to the Tokyo metropolitan authorities for it to be opened as a public park in 1934. Expanded to include the Azabu Baseball Field and tennis courts, the park was handed over to the control of the city's Minato Ward municipal authorities in 1975.
Close to the park's administrative offices stands a bronze statue of Arisugawa-no-miya Takehito's elder half brother, Imperial Prince Arisugawa-no-miya Taruhito (1835-1895).

Natural Beauty

The lush green park follows the contours of the Azabu terrain. With its hills, valleys,and ponds, this is an elegant Japanese garden with respect for natural beauty.
The rolling land falls in a gentle slope, from high ground in the east, to a low-lying area on the southwest corner. There are many densely wooded areas in the park, with a brook that flows to the southwest pond.
The elegantly designed landscape includes dirt paths with log steps, along with a stone bridge over the stream where it flows into the pond. In the southeast plaza facing the German Embassy is the equestrian statue masterpiece of Prince Arisugawa Taruhito, along with other works including the Newspaper Delivery Boy, and the Youth Playing a Flute. The Tokyo Metropolitan Library also sits on a rise within the park.
Garden

From the high ground of the Tokyo Metropolitan Central Library on the east side, the park terrain slopes downhill toward the west side, blending a pleasant diversity of scenes such as a mountain stream, waterfall, and a pond graced by domestic and wild ducks. A stroll along the path by the stream, amid the sounds of chirping birds and tumbling water, imports the charm of being deep in the mountains. Two islands are arrayed within the pond along with attractive stone lanterns near the edge. Water draining from the north and east areas of the park forms the stream and waterfall that flows into the pond. The stream is spanned by several distinctive bridges, including an arched one, in a zone of beautifully maintained garden trees.
Seasonal Blossoms

The leafy park is filled with flowering trees and plants that offer beauty to enjoy with the changing seasons. In spring there are plum and cherry blossoms, along with flowering dogwoods, the city tree. In early summer irises bloom, followed by hydrangeas, the city flower. Fall brings the colorful foliage of the gingkoes and Japanese maples, and winter peaceful snowscapes.
The plum blossoms in February are particularly stunning, and there are 11 varieties of cherry blossom, including the popular Japanese Cherry and Yoshino Cherry. The park offers a unique experience with each visit.
ACCESS
To get to Arisugawa-no-miiya Memorial Park, long noteworthy for putting visitors in touch with nature even in the center of Tokyo, it would be best to take a train or bus as there is no parking space in the park.
Address

5-7-29 Minami-azabu, Minato-ku, Tokyo

By train

3 min.walk from Hiroo Station (H03) on the Tokyo Metro Hibiya Line

By bus

・Chii Bus (community bus service)
Azabu Route (loop line)
Get off at the 98 Arisugawa-no-miya Kinen Koen stop (0 min. walk)

・Toei Bus
Hashi (橋)86 Meguro-Shinbashi
Get off at ' Hiroobashi' or 'Aiiku Byoin'

Kuro (黒)77 Meguro-Sendagaya
Get off at 'Hiroobashi'

Shina (品)97 Shinagawa Bus
Depot-Shinjuku
Get off at Hiroobashi'
Visitors Guide
We recommend that visitors take a few moments to become familiar with the rules for enjoying Arisugawa-no-miya Memorial Park so that the feelings of its many visitors are better taken into consideration.
1. As there are no garbage receptacles in the park, take-out food containers, PET bottles, empty cans, waste paper, trash, dog droppings, etc. must be carried away.
2. Do not harm, or remove from the park, trees, flowering plants, wild birds, or other living things.
3. Do not abandon cats, dogs, ducks, or other pets in the park.
4. Try to keep the noise down so as not to bother other visitors or nearby street residents.
5. Do not build an open fire or hold a barbecue in the park. Fireworks or fire play of any kind is not permitted.
6. Do not let pet dogs run loose in the park. They should be on a leash and never left unattended.
7. Do not participate in ball games that may disturb other people.
8. Walk — don't ride — bicycles through the park
9. Do not cross or climb over fences or other barriers.
10. Smoking outside of designated areas is prohibited.
11. A park permit is necessary to:
— Engage in sales or other commercial enterprise on park grounds.
— Take photographs for money
— Collect a fee to present a film, drama, or other performance related to the entertainment industry.
— Distribute signs, posters, or leaflets.
Frequently Asked Questions
Q1.May we take pets into the park
A1.Yes, provided they are on a leash or in a cage. Don't let pets run free.
Clean up any droppings and make sure pets don't bother other visitors.
Q2.May we smoke tobacco in the park?
A2.Visitors are asked to refrain from smoking except in designated areas. Check the park map to find out where these areas are, and observe the general rules regarding the use of tobacco in Minato Ward.
"Minato City Smoking Rules" apply to all outdoor public places including roads and parks:
— Consider the health concerns of nonsmokers.
— Don't smoke outside designated areas.
— Don't toss cigarette butts onto the ground.
Q3.Is there parking space in the park?
A3.There is no space for parking, so visitors should use public transportation.
Q4.May we bring in our own picnic boxes?And is there a sheltered place to eat on rainy days?
A4.Visitors are free to bring picnic boxes into the park, but are asked to pay attention to sanitary concerns and to carry away their trash when they leave. There is no sheltered dining place for rainy days. In fair weather, the area around the Statue of the Youth Playing a Flute has become popular for children's picnics.
Q5.Are there any restaurants?
A5.There are no restaurants in the park.
Q6.What about barbecues?
A6.There are no areas in the park for barbecues.